The International colloquium was an opportunity for graduate school students and employees from various disciplines to share their research ideas and outputs with the academic community. The activity allowed students, faculty members, and staff to demonstrate their research capabilities and skills developed from the research endeavors.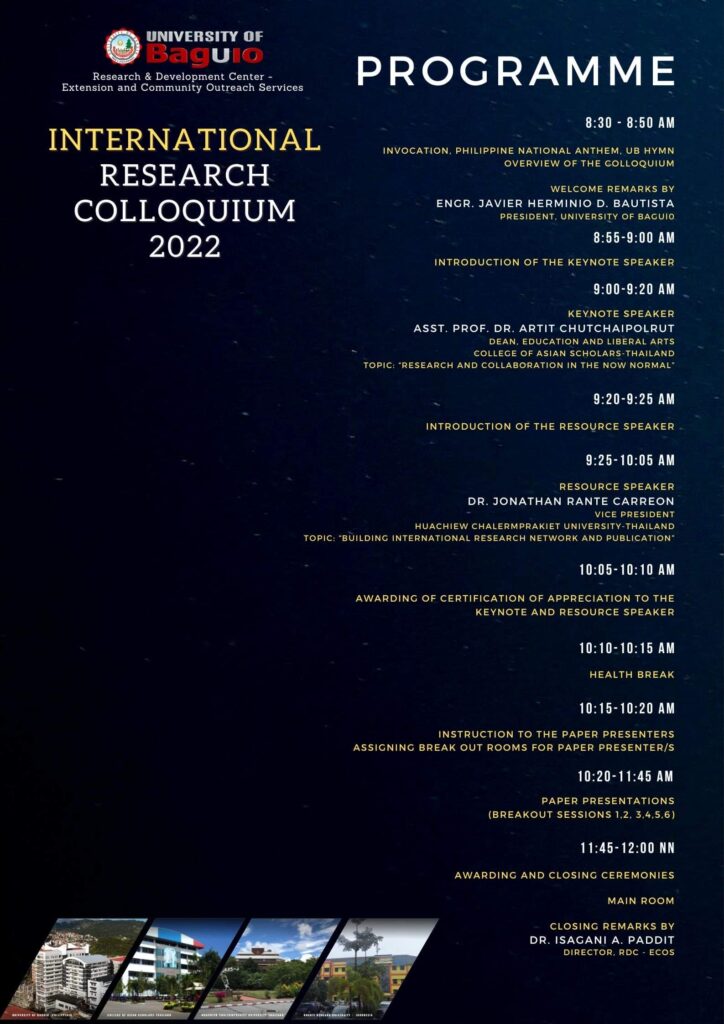 With the theme; "UB International Research Colloquium: Addressing Sustainable Goals through Research," the first international research colloquium was held last November 18, 2022, from 8:30am to 12:00nn via Zoom application and FB live on the RDC FB page.
The colloquium's objectives were to help meet the objectives of internationalization by addressing the 17 UNSDGs through research dissemination and utilization and encourage participation from local, national, and international partners for research dissemination. There were 21 presentations by 12 research grantees, 1 dissertation grantee, 5 thesis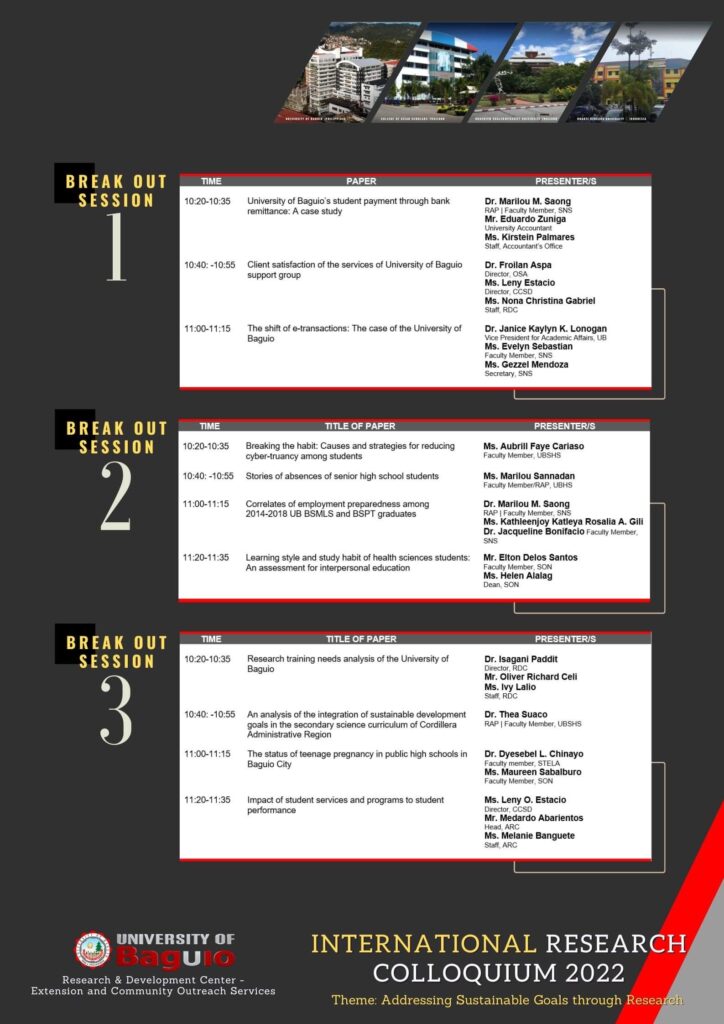 Asst. Prof. Dr. Artit Chutchailpolrut, the Dean of Education and Liberal Arts of the College of Asian Scholars (CAS) in Thailand was the first speaker and talked about Research Collaborations in the Now Normal. It was followed by Dr. Jonathan Rante Carreon, the Vice President of Huachiew Chalermprakiet University (HCU) in Thailand, who discussed building an international research network and publication. grantees, and 2 external presenters from Thailand.
He also highlighted the 17 SDGs that the University can adopt and the roles of higher educational
institutions in the attainment of the SDGs. The Section Chief of International Education Center of Luoyang Polytechnic China, Mr. Gui Kaixuan, also gave his message to the attendees and participants.
Engr. Javier Herminio D. Bautista, the President of the University of Baguio, gave his welcoming remarks while Dr. Isagani Paddit, the Director of R & DC, delivered the closing remarks. The event was attended by faculty members, students, staff, and guests from other academic institutions.